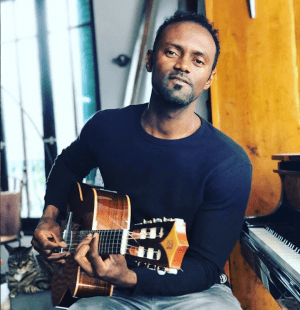 Traveling around the world, there's always one thing I can find:
Cha, tea!

From Siberia to Brazil, every hotel room, backstage area, breakfast buffet: there's some kind of tea, which makes me so happy (not airplane tea please!). A cup of tea to warm up, wake up, with ginger and honey to sing, to enjoy with new friends or by myself to relax after a show.
We all deserve these moments right? 

Through my music and lyrics I like to share stories with the world, with you guys. And there's more ways, more beautiful things to share of my rich culture and the ones I'm blessed to experience on tour.  That's why I select special items as my merchandise and after sharing coffee from Cabo Verde, it was time for tea.
Surprisingly I found out the oldest and only tea plantation was in PORTUGAL – on the Azores Islands!
Wow I never knew this. These islands are so so beautiful, bright green and fresh, and concerts I had there are always amazing. Really happy to present three gourmet, high quality teas from the middle of the Atlantic Ocean, that are 100% biological tea (no chemicals) that reflect these special islands:
Green tea (Hysson), Black Tea (Orange Pekoe) and Jasmin Green Tea.  
PLUS enjoy the full flavor of two extra teas from the ground of Mother Africa: an exquisite White Tip (Silver Needle) tea from 2000 meters high in Kenya, and classic warm Rooibos tea (organic) from South Africa.
Please tell me what your favorite is and if there's a style of flavor of tea you'd like me to include.
Aproveite, Enjoy! – Miroca
Brew: 3 min | temperature:  75°C | dose: 1 tbs for 0.5 L
Rich in tannins and antioxidants
GREEN TEA – Quality: Hysson
Green tea is a type of tea that is made from Camellia sinensis leaves that have not undergone the same withering and oxidation process used to make oolong and black tea.
The Hysson green tea is produced from the top three leaves of the tea plant that are harvested in July and August when the sun is strongest.
The result is a brownish green tea with a delicate aroma and an intense flavour.
Ideal to be enjoyed at any time of day, the Hysson green tea is known for its various health benefits.
BLACK TEA  – Quality: Orange Pekoe*
Produced exclusively from the plants terminal bud and its first leaf.
Its young and delicate leaves are harvested only at the beginning of the harvest season in late March, April and May –  optimal conditions of humidity and air temperature.
The result is a high quality copper colored tea, with a distinct flavor and fruity aroma. Ideally suited for an afternoon tea.
*Named after the high quality tea the Dutch (Royal House of 'Orange') were famous for. No connection to orange fruit /flavor.
Brew: 3 min | temperature: 95°C | 1 tbs for 0.5 L


Brew: 3 min | temperature:  75°C | dose: 1 tbs for 0.5 L
Rich in tannins and antioxidants
JASMIN GREEN TEA – Quality: Azores' highest 
Combination of Azores' highest quality green tea and Jasmin infused tea from India. Encosta de Bruma is produced exclusively from the sprouting bud and the first leaf of the plant. Grown on the highest ridge of the plantation, the leaves are protected from the intense sunlight by the constant fog, harvested in late July – early August.
Its subtle sweet and light characteristics are formed during that time, due to the rainfall, humidity and consistent air temperature.
The jasmin infused tea – with extra dried flowers – creates that recognizable and alluring floral smell. Perfect as a morning or afternoon tea.
KENYA WHITE TEA – Quality: superb Silver Needle
This specialty 'WHITE TIP' tea comes from the most prominent tea producing area in Kenya: Kericho. It's cultivated at a height of 2000 meters, from where the tea buds – or tips – are carefully harvested. Through a delicate process they're slowly withered, hand rolled and  dried until the ideal moist level of 3-5%.
The result is a classic soft 'needle' tip of unrivalled quality in Africa. 
Lovely full character, light yellow greenish infusion, mild, slightly fruity.
Brew: 2-3 minutes | temperature: 75°C | dose: 2 tsp
High concentration of antioxidants.

Brew: 6-8 minutes | temperature: 100°C | dose: 1 full tsp
Rich in tannin, does not contain theine.
ROOIBOS – RED BUSH from South-Africa
The world famous Red Bush is cultivated only on the Cederberg Mountains north of Cape Town – but not from a tea plant. This distinct tea is harvested in the summer (the first quarter of the year) from a bush endemic to South-Africa.   
Freshly cut rooibos gets its distinct coppor hue, by being is oxidized and dried in the open air.
Known for its woody, full and spicy taste with red-orange color.

100% Certified organic NL-BIO-01