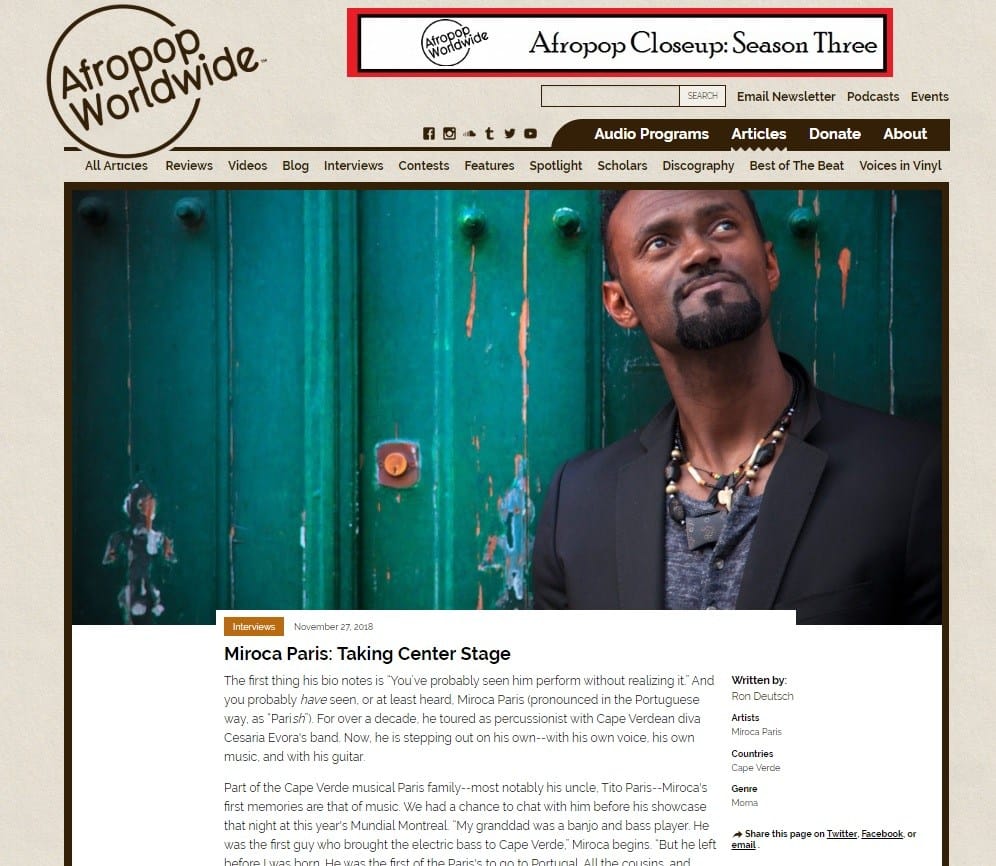 Highlights of Miroca Paris' appearances in media.
2021 – 2020 – 2019 – 2018 – 2017
Radio & TV, press reviews, interviews, features and more!


2021
28 July – Magazine Rimas e Batidas announces Miroca as official selection for Womex 2021.
22 July – WOMEX announces Miroca Paris as official selection of 2021!
3 July – Radio Nowy Swiat – broadcast of full live concert as recorded in Scena Monopolis, Lodz 23 June, Poland 
26 June – Wyborcza online magazine – Lublin: "Był uczniem Cesarii Evory, grał z Madonną. Miroca Paris wystąpi dziś w Teatrze Starym"
23 June – Radio Nowy Swiat interview, PL
23 June – Live streamed interview Lodz Scena Monopolis
15 June – Radio Lublin live interview with Magdalena Fijalkowski, PL
2020

Oct: Jazzism Magazine, NL – feature interview: "Miroca Paris, African fusion" by Rik van Boeckel

7 Sep: Dziennik Baltycki online magazine Poland, Siesta Festival preview: "Wrześniową odłonę jubileuszowej Siesty zakończy "podwójny" show Miroca Paris w Klubie Parlament, kabowerdyjskiego mulitinstrumentalisty i wokalisty, mającego za sobą występy m.in. z Madonną.
Miroca Paris zastąpi Anabelę Ayę, której koncert w Parlamencie był pierwotnie zapowiadany (artystka nie mogła dotrzeć z uwagi na pandemiczne ograniczenia w ruchu lotniczym)."
7 Sep: WP Poland online magazine, Miroca Paris SIESTA Festival announcement
7 Sep: Timeout 'Lisboa ao Palco' Miroca Paris e Paulo Flores concert announcement
6 Sep: Blitz
3 Sep: RCV Cabo Verde national public radio 'A Nossa Maneira' interview and feature
24 July: RTC Cabo Verde national public TV: Jornal da Noite TV interview
23 July: Letras das Ilhas online diaspora magazine, interview Rotterdam
26 June: Tilburg.com Miroca Paris outdoor covid-proof concert Theater Tilburg
19 Jan: Correio de Manha magazine, live review
"Cantor cabo-verdiano Miroca Paris dá grande espetáculo em Lisboa"
Nancy Vieira, Tito Paris, o teclista Rickey Pageot e a voz de Yahzarah participaram no concerto.
18 Jan: CMTV interview
17 Jan: Visao – agenda feature
17 Jan: GLAM Magazine feature
16 Jan: Publico – Ipsilon newspaper "Cabo Verdean artist Miroca has his arms open for many influences."
16 Jan: Radio Commercial "Miroca Paris: D'Alma de Cabo Verde hoje no Capitólio"
"O multi-instrumentista é um dos músicos lusófonos convidados para a digressão de Madonna. Hoje vai mostrar o disco "D'Alma" no Capitólio, em Lisboa. Nancy Vieira, Tito Paris e Rickey Pageot (pianista e acordeonista de Madonna) são os convidados."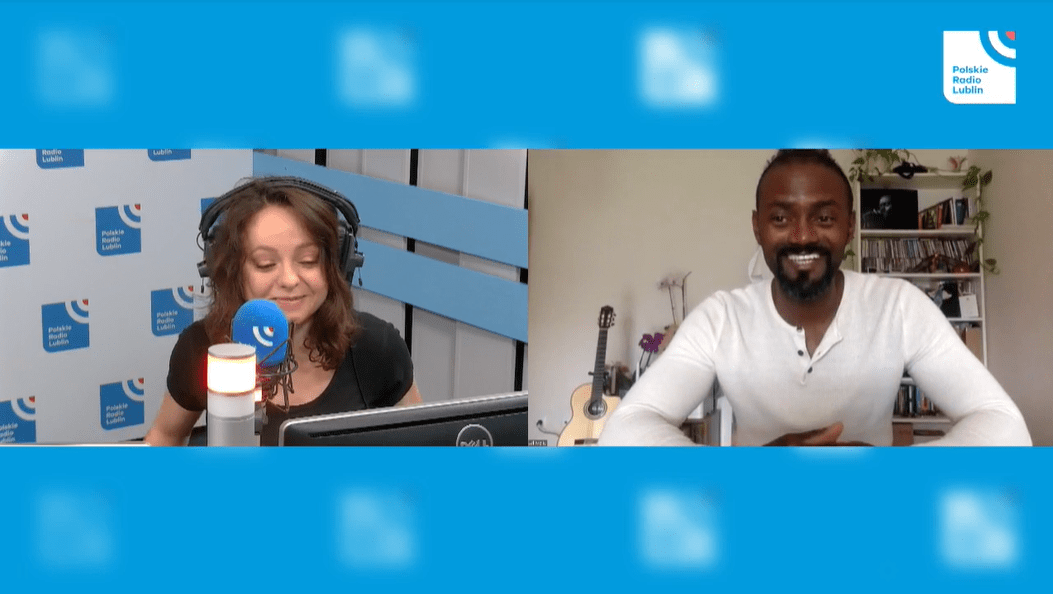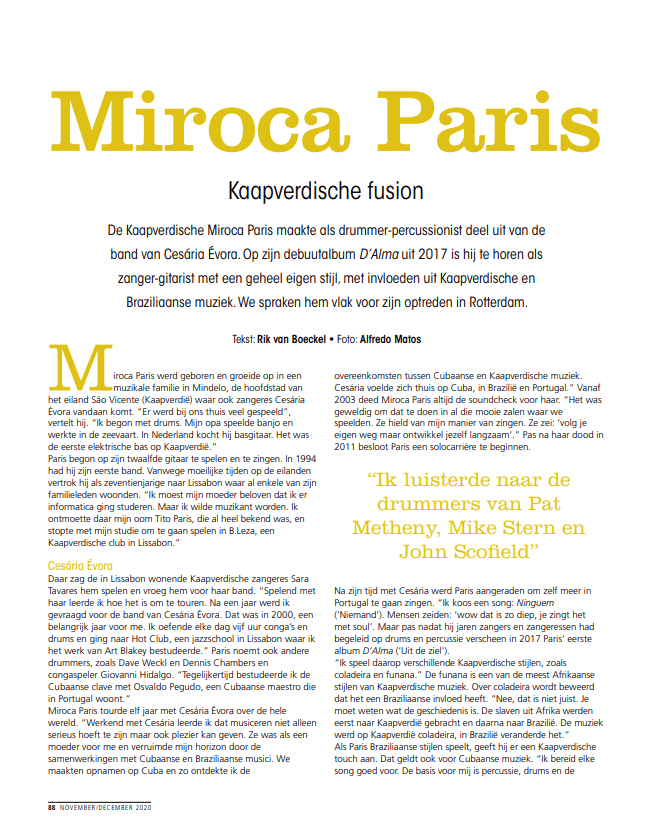 14 Jan: Diario da Noticias newspaper interview
"Miroca Paris: "A Madonna é uma grande fã de Cesária Évora"
O percussionista cabo-verdiano de Madonna aproveita a passagem por Lisboa para apresentar o primeiro disco a solo, D'Alma, que marca um regresso aos ritmos mais tradicionais do país natal."
14 Jan: Antena 1 – Os Dias da Radio interview with Ana Carvaarlheda
13 Jan: Correio de Manha magazine – video interview by Tiago Sousa Dias
"Miroca Paris, do Mindelo para o Coliseu passando pelo Capitólio"
Nancy Vieira, Tito Paris, o teclista Rickey Pageot e a voz de Yahzarah participaram no concerto.
13 Jan: RTP TV Live 'A Nossa Tarde' (forard to 23min) performing 'Guilhermina'
12 Jan: RTP TV Noticias evening news 21:00 – interview playing with Madonna's #MadameX
12 Jan: TVI TV Noticias, evening news – interview playing with Madonna's #MadameX
12 Jan: SIC TV Noticias, evening news – interview playing with Madonna's #MadameX
12 Jan: Radio Antena 1 – Vozes de Lusofonia
11 Jan: Lisbon Live podcast, interview at Atlantic Blue Studios
10 Jan: RDP Africa radio live with Nuno Sardinha 15:00
8 Jan: Visao magazine – Concerts tips for January
7 Jan: BLITZ news, announcement plus interview SIC "Chegou o momento de Miroca Paris"
7 Jan: SIC Noticias – Cartaz, Live interview on national TV
3 Jan: RTP 360 Noticias, national TV feature 9 o-clock news
2019
31 Dec: O Observador, national magazine feature
24 Dec: BBC – radio PRI The World with Marco Werman, Boston USA

22 Dec: TCV – RTC TV National TV Cabo Verde evening news Palco Jornal de Domingo
18 Dec: Som Direto  "Em tour com Madonna, Miroca Paris aproveita passagem por Lisboa para concerto no Capitólio"
17 Dec: Sapo PT / Luso "O cantor cabo-verdiano Miroca Paris, atualmente a acompanhar Madonna na digressão mundial, atua em 17 de janeiro no Capitólio, em Lisboa, anunciou hoje a promotora do espetáculo."
17 Dec: Interlusofona.info "Miroca Paris: cantor cabo-verdiano que tem acompanhado Madonna atua em Lisboa"
17 Dec: Infocul.pt "Miroca Paris actua no Capitólio"
17 Dec: Diario de Noticias magazine PT : "Miroca Paris vai estar em Lisboa com "Madame X" e aproveita para se apresentar a solo, a 17 de janeiro no Capitólio."
15 July: Berliner Morgenpost newspaper "Gilberto Gil & Miroca Paris in Berlin", Germany
17 June: French magazine Les Inrocks "Reportage au cœur des musiques capverdiennes"
12 June: RFI France: Reportage Afrique "Miroca Paris une vie de musique"

12 June: RTC National Radio Cabo Verde – Feature 'Artista de Semana'
16 April: RTV Cabo Verde special about Miroca at AME – Cabo Verde Magazine
12 April: SAPO CAbo Verde online magazine "AME 2019 incl Miroca Paris".
12 April: SAPO Cabo Verde online magazine "VII edição do Atlantic Music Expo"
11-14 April: TV RTP Agora Nos celebrating 30 years Dany Silva & guest Miroca Paris
4 April: TV live footage & interview of Vozes Cabo Verde, by RTP Bem-Vindos
4 April: Expresso das Ilhas newspaper announces Cabo Verde Tour
23 March: Glam Magazine Miroca Paris plays Lisboa twice!
27 March : TV RTP Bem-Vindos interview & live music
18 March: Radio TSF Radio Noticias – special feature in Zona Global
8 March: Atlantic Music Expo announces national line-up incl Miroca Paris
12 Jan: TV SIC progam 'Etnias' interview & live music
2018

Portugal
TV RTP Conversas ao Sul, PT
Magazine feature in ALGARVE INFORMATIVO, PT
TV RTP Bem vindos, PT
TV RTP Rumos, PT 
CANADA & USA
Camões Radio, Balança Toronto with Francisco Pegado, broadcast November 16, 2018
OMNI TV, Focus Portuguese with Sergio Mourato, aired November 17, 2018
CHIN RADIO, Noites da CHIN Brasil with José Schuster, broadcast November 17, 2018
Camões TV, Camões TV Show Nº43, aired November 25, 2018 – Interview conducted by Telma Pinguelo
(The entire show can be found in this link)
Afropop Worldwide, "Miroca Paris: Taking Center Stage" written by Ron Deutsch, November 27, 2018
2017 

SPAIN / CATALONIA / CANARIES

10 Nov – RTVE Espana​ LIVE Video at festival WOMAD 'Felicidad' & 'Bo', 'Nha Simpronia' 

26 Oct – El Pais​, ​"Top 6 tips of What to see at WOMAD: Miroca Paris." Top 6: No te pierdas conciertos!
"Poco más que añadir: promete un océano de romanticismo y saudade" 

27 Oct – WOMAD Las Palmas​:  "A sua música tem-nos apaixonados. Não é pra menos! Miroca Paris Project chega de cabo verde com essa essência atlântica."

27 Oct – Mondo Sonoro : WOMAD Las Palmas con Miroca Paris.
24 Dec – Radio Demensenlla, album D'alma #TWMC
9 Nov – Canaries7 – "Womad: Una propuesta multicolor bendecida por la crític". MIROCA PARIS "¿Quién es?
Nació en una familia de músicos prósperos. El Paris, con siete años, comenzó a tocar la batería y a los trece
Miroca exploró el canto, la guitarra y la percusión. Impulsado por los sonidos a su alrededor, fundó su primera
banda en 1994, tamborileando y cantando.
¿Cómo suena?
El caboverdiano ha sido un músico reclutado en más de una ocasión por Cesaria Évora o Sara Tavares para sus
discos. Una carta de presentación más que suficiente."

PORTUGAL
RTP Africa TV Bem vindos: Miroca conta e toca músicas de D'ALMA 5 dec 17
RDP Radio Disco da Semana: D'ALMA e Disco da Semana 22-27 nov 17
RDP Radio MÚSICA SEM ESPINHAS: Exclusiv Nuno Sardenha fala com Miroca sobre seu novo disco, nov 17
RTP Africa: Discos de Africa – video Mund Amor & Joana Joaninha, continuously broadcasted dec 16 – present


NETHERLANDS
TV NPO1 VRPO 'Free Sounds' live broadcasted performance – 24 jan 2018 #EBU
Radio NPO1 Netherlands National Broadcast service, VPRO Vrije Geluiden – 5 Dec 2017 #EBU
Nov & Jan – Kaapverdiaanse Omroep Zaanstad live interview & songs 
20 Dec – Mixed World Music by Ronald Veerman
Translation: "Miroca ripened his talent in the past 20 years. D'alma is unique because of the very relaxed
sound, the characteristics of an artist who doesn't have to prove himself. I jumped up at the exciting percussion
instrumentation of the first track Nhe Simpronia and Joana Joaninha, plus the funky take on Guilhermina."
BELGIUM
Radio 1: KL1 #EBU dec 2017 & jan 2018

CABO VERDE
Radio Morabeza, dec 2017 & interview 9 jan 2017
SAPO Cabo Verde

LUXEMBOURG
13 Dec – Radio ARA – MONDOPHON by Willi Klopottek #TWMC

GERMANY
Tonart Weltmusic on Deutschlandfunk Kultur by Thorsten Bednarz 30 Nov 2017 #EBU
Global Groove Buster Radio Show with Mr. Highlife Royal, 27 Nov 2017 #TWMC

GREECE
Planet Music on Planet FM 90,6 by Elenita DeLa Santa Piedra', 7 dec 2017 #TWMC
N'ka Pur si – D'ALMA

PORTUGAL
RTP Africa: RUMOS – 20 Anos 
Cronicas da Terra by Luis Rei, 9 dec 2017 #TWMC – D'alma #4 Best release from Portugal 2017

POLAND
Radio Lublin – 27 Oct 2017 – Live interview and songs with guitar at WOMEX17