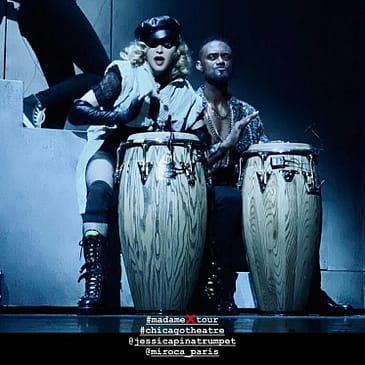 After 11 years performing with the Barefoot Diva, Miroca Paris embarks on a new adventure, this time with the Queen of Pop, Madonna.
Get ready for a new adventure: Miroca Paris is officially part of Madonna's new MadameX tour! The young veteran will be seen playing lots of instruments in different settings during the 2.5 hour theater concert. Besides this jam-packed show, he'll be in the opening act, a 30 min warm-up with 3 other Portuguese artists, where he'll play both Madonna as Lusophone classics – instrumentally.

From Maroccan krakebs, to kayambe from La Reunion, darbuka and acoustics guitar, Miroca will be adding rhythmic foundation, Cabo Verdean – Lusophone knowledge, immersed in incredible decor, working with Madonna's longtime artistic director Kevin Antunes (from Boston with Cabo Verdean roots).

Definite recommendation to step into the world of MadameX if you can!
If you can't be there in person, here's a few photo's and videos from Madonna's official media.